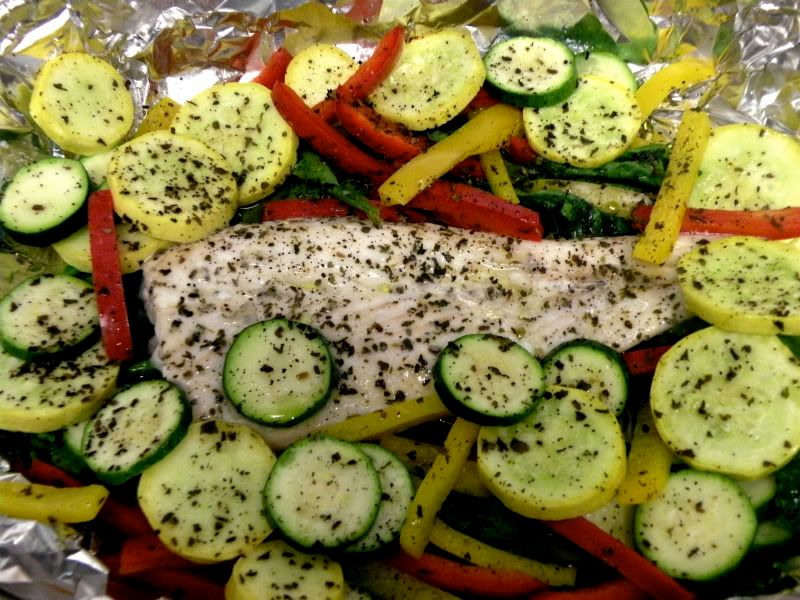 For dinner tonight I decided on fish. Halibut is a special treat for myself that I don't make very often due it's price tag. I was very pleased with how it turned out with veggies baked right along with it. I've been on a bell pepper kick lately and used both yellow and red for this recipe. This meal is loaded with omega 3's, low in fat, and low carb. I do like to have a carb with my dinners so I bought a box of gluten free macaroni and cheese and substituted the milk with hemp milk. Hemp milk is my new best friend because you can't even tell the difference in the finished product.
I made chicken parmesan for the family tonight. I prepared my halibut while I had oil heating in the electric skillet. I put my dinner in the oven and was free to then concentrate on their dinner. I love baked dishes for that reason, it makes cooking two seperate meals at the same time so much easier. There is a way to make chicken parmesan gluten free but since I can't eat the tomato sauce, due to acid reflux, I don't bother. I'll post a recipe for it in the future for those of you that can eat tomato sauce. For now I'll give you my halibut recipe.
What you'll need
1piece of fresh halibut (about a pound)
1 zuchinni, sliced
1 yellow squash, sliced
1 yellow pepper cut into long strips
1 red pepper cut into long strips
Handful of fresh spinach leaves
Olive oil
Basil
Salt and pepper to taste
Instructions
Line a square or pie dish with a long piece of tin foil. Pour about a teaspoon of olive oil onto the foil. Layer spinach leaves on the bottom. Place the halibut on top of the spinach and baste the halibut with olive oil. Arrange peppers, zuchinni, and squash all around the halibut. Sprinkle basil all over halibut and peppers. Sprinkle salt and pepper to taste. Bring ends of foil together and fold. Using another long piece of foil, lengthened the opposite direction as the first, place the foil pack of food on the other piece of foil. Bring the ends together and fold, creating sort of a pouch without leaks. Place the halibut pack into the dish and bake at 350 for 40 minutes. Enjoy!